Disclosure: We are a professional review site that receives compensation from the companies whose products we review.
Technological progress is more and more of a reality in our daily lives. Whenever we seek to obtain any type of information, we have an inexhaustible source of knowledge, the Internet.
Within the scope of learning how to play the guitar, online courses are gaining ground, while the idea of in-person classes is gradually being dismantled. Apart from being more tiring, in-person lessons often require travelling time, and have limited flexibility of timetable due to the teacher's availability.
Be you a beginner or even a professional guitarist, if you have the desire to improve, then online guitar courses are an excellent alternative.
Maybe you thought: 'I just need to check out some lessons on YouTube'. That would not be a bad idea were this platform not so wide in scope. Indeed, there are thousands of videos on YouTube that allow you to learn a host of different things, but it is also worth remembering that, among so many videos, it is possible that distraction affects your learning, and also the fact that you would be following a series of non-structured lessons could lead to frustration. Studying subjects in a random fashion, without any logical sequence, would probably give an impression of stagnation, as this way it would be very difficult to measure progress.
If you are interested in becoming a better guitar player, then you should know that playing the guitar includes progressing with your learning, developing your own style, and goes well beyond just playing nice tunes.
Have you ever considered reaching this goal without even leaving the comfort of your home? Among the many advantages of online courses, there is the possibility of choosing what best adapts to your style, as well as the convenience and the flexibility of being able to study wherever you like and according to your available time, not to mention the low cost when compared to in-person courses.
There are many online courses that are devoted exclusively to learning to play the guitar. Some of these are designed with the goal of making the student a professional, while others are for those wishing to play the guitar as a hobby. Whatever your goal may be, a specific course will help you to develop your skills in playing the instrument, and shall make your learning much more interesting.
Considering all these factors, how can we establish the criteria for choosing the ideal course?
Free Test
As mentioned before, there are many available options and, for this reason, giving the student the possibility of trying out the course before making a purchase is a definite positive point. Indeed, nobody wants to invest in something without being sure that it is suitable.
Accessibility
It is important to assess the availability of the course. This means looking at which devices and operating systems could be used; if it is possible to access the content offline; and if the lessons are available for download.
Teaching Methodology and Didactic Structure
Consider whether the way the lessons are given is appropriate for your learning, and also if they follow a logical sequence, so that you do not get lost.
Levels Covered
One of the most important things is that of recognizing whether you are a beginner, an intermediate student, an advanced guitar player, or a professional. Based on this, it is possible to choose a course which includes the levels where you are and where you want to be;
Student Services
Not having direct contact with the teacher, it is possible that the student feels the lack of this interaction. How about considering the possibility of solving doubts, obtaining feedback, or even having some exclusive lessons? Some online courses offer this kind of support.
Exclusive Resources
Apart from all the points here raised, it could also be interesting to conduct research into the exclusive resources of each course. It is very common for them to offer different tools that shall help you evolve. In many cases, these shall be aspects that shall make you choose one course over another.
Cost
There are some courses that you can acquire by paying on sight, while many others allow access to the whole content while paying in monthly installments.
As there are many available options, here we shall present the five best.
This is one of the pioneers when talking about online guitar courses. Guitar Tricks has been around since 1998 and has already taught 3 million people to play the guitar.
The company includes a wide range of specialized instructors, specialized in a wide range of musical styles and all levels of learning. In addition, Guitar Tricks is known to be the best online course for beginners, as it as a distinctive learning system. Below, we shall look at some details:
The course has two grades of access: basic access and full access.
The basic access package is totally free of charge and offers 24 experimental lessons with free access. The full access package shall be available for those who acquire the service.
In this format, the student shall have access to the whole platform with a team of 45 instructors, over 11 thousand lessons, and hundreds of lessons on specific types of music. The basic access package is sufficient for the student to assess the course; however, even so, Guitar Tricks offers a 14-day trial period; even afterwards, after hiring the full-access plan, the client has the right to claim the money back within 60 days, if not satisfied with the course.
The teaching methodology and the didactic structure are the most interesting aspects of Guitar Tricks. The course offers a programme based on organised lessons that follow an easy sequence in which complexity increases gradually based on the progress made by the student, known as the Core Learning System.
This methodology means that you will never be frustrated, and then, over time, the student will master the more intricate techniques. In addition, the course puts emphasis on applied learning, making available more than 1000 tutorials about how to play the songs of the best-known musicians in our society. The platform is available for computers, tablets, and smartphones, and allows you to download the video classes to watch offline.
It is worth remembering that you shall not be alone while trailing this path! Instructors from a wide range of musical styles (acoustic, blues, bluegrass, classical, country, funk & soul, jazz, metal, rock, rockabilly, surf, world) are available, and you can ask them questions whenever you have a doubt. If you need extra help, it is possible to book an extra lesson.
The student who obtains the full access package shall also have access to the toolbox. This toolbox comprises 10 exclusive tools that shall help you with your guitar practice. These tools are: scale finder, jam station, metronome, chord finder, reference tuner, fretboard trainer, chords charts, guitar tab guide, guitar glossary and fretboard diagram.
There are two options for subscribing to Guitar Tricks: USD 19.95 per month or USD 179.00 per year. This, always remembering that you have up to 60 days to ask for a full refund should you not be happy with the course.
ArtistWorks
Founded by David Butler in 2008, ArtistWorks is a platform with over 50 thousand video lessons. As its very name suggests, in this course many professionals and some musical legends shall instruct you. In all, 35 teachers give lessons in different instruments and you can choose the package and the instructor that you wish, according to the musical style.
Different from most online guitar courses that work with access to a large library with different teachers, at ArtistWorks you shall have the opportunity to enrol for exclusive lessons, with an exclusive instructor and according to your preferred musical style.
Each instrument has a huge library of lessons that covers fundamentals, advanced techniques, and main learning strategies. In addition, the course offers a special programme for adult beginners and video lessons with important resources of slow motion and looping, in the videos.
The methodology of student service is the main advantage of ArtistWorks. All the courses offered provide the student with the possibility of getting direct feedback from the instructor, making online lessons much more like in-person ones.
You send your videos, practicing the lessons, and then you get feedback from your teacher, with tips and answers. Have you ever imagined that you could get feedback from people like Paul Gilbert, Keith Wyatt, Guthrie Trapp and Chuck Loeb? Well, yes: the platform not only allows us to offer courses given by these famous names, but also makes it possible to get feedback from these legends.
It is also worth remembering that the students can access the library of the Video Exchange, where all the videos are recorded. In this way, you can have access to all interactions between students and teachers, meaning that you can significantly expand your knowledge.
More than that, you will then have access to a real community, where you will be able to interact, sharing content, talking to new friends, and encouraging others to progress with their learning. However, this content is not available for download.
ArtistWorks believes that, if the content is made available for download, then the student shall not take advantage of the main benefit offered by the platform, which is the interaction between teachers and students, and between the students. You can download the materials in PDF that come with the lessons, and refer to them whenever you need to do so.
ArtistWorks offers 3 month, 6 month and 12 month plans. Notice that the larger the period contracted for, the lower the monthly cost shall be and the more benefits you shall have. The plans are organised as shown in the picture below.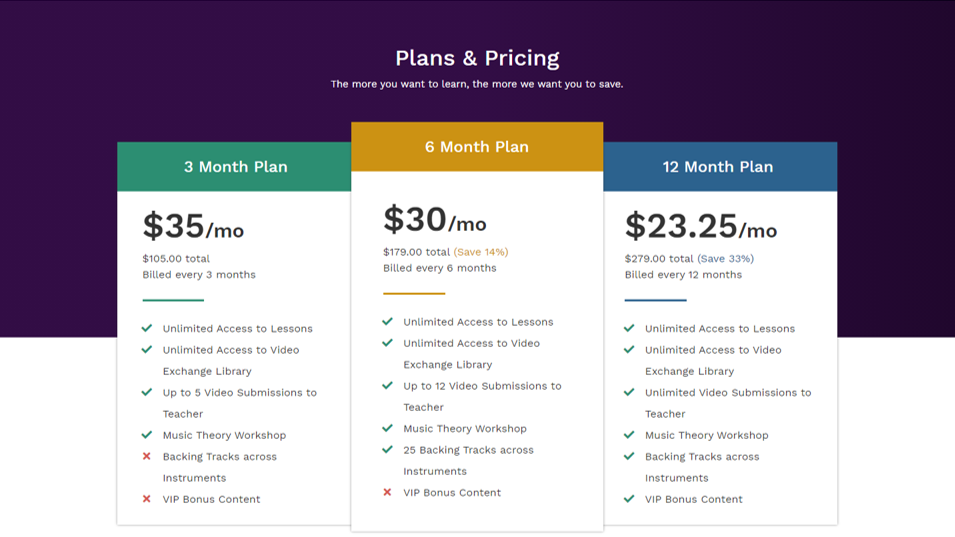 Fender Play
Known worldwide due to its strong presence in the musical instrument industry, in 2017 Fender launched an excellent course for people starting to learn to play the guitar.
The initial motivation was that of allowing the learning of the instrument by anyone purchasing a Fender guitar, but the company did not limit itself to this, and has been applying the whole style of the brand and the love for the instrument to the Fender Play app.
Available for desktop, iPhone, iPad and Android, the platform presents essentials of chords and musical notation, and encourages the student to pit everything in practice through learning songs that apply the techniques learnt at each level.
As soon as you complete your registration, you shall choose if you wish to learn the acoustic or electric guitar, and one of the five musical genres: Rock, Pop, Country, Blues and Folk. Based on this, the platform shall propose a customised lesson plan, exclusively for you, allowing access to the content in three different ways: my way, songs and skills.
The advantages do not stop there. The instruction videos are organised step by step, and have high resolution, allowing the student to use the decelerate function, and come with tablatures, tables, and chord guides.
You shall also able to listen to live lessons with teachers who are really versed in the subject, and interact with the community of students. I am sure you will be very well instructed, through an interface that is easy to browse.
Fender Play offers all its services for USD 9.99 a month, and if you choose the annual payment plan, you will pay one single instalment of USD 89.99 for the year. In addition, Fender gives a special 10% discount on any one of their products, for Fender Play subscribers. It is also worth remembering that you can try out the services of the app for up to 14 days before deciding to acquire any one of the plans.
Jam Play
Here we are talking about one of the market leaders in the segment of online guitar lessons. The platform has been in operation for some 14 years and currently has over 500 thousand people enrolled in over 220 countries.
On this platform, you will find sufficient content to learn to play the guitar, from country styles through to heavy metal. Jam Play makes its apps available for online access through iOS, Android or Chromecast mobile devices, and a lot more.
The subscribers shall also have permission to watch over 6.5 thousand guitar lessons, accompanied by interesting tools such as scale finders, chord constructors, and backing tracks for you to practice any musical genre.
In addition, the video lessons are filmed at professional studios with 4K quality and full HD, allowing the user to make a loop at any section of the video, together with the playback speed control. Another important resource is that of the video bookmark.
On this resource, you can save sections of any video, with your own notes, for reference whenever you wish, and more quickly.
The teaching staff of Jam Play has over 110 teachers of 20 different musical styles, and among these you can find many famous guitar players such as Lita Ford, Steve Stevens, Mike Mushok, Robb Flynn, Phil Demmel, Brent Mason, Dave Isaacs and many other icons.
The platform is structured in main groups:
For beginners (21 courses and over 600 lessons)
Style and Genres (128 genres and over 3000 lessons)
Skill Builders (54 skills courses and over 1000 lessons)
Learn Songs (over 450 songs, covering a variety of genres)
Master Classes (49 master courses and over 900 lessons)
Weekly lives with interactions between teachers and students
8 toolkits with exclusive features
Frequent addition of new lessons, resources, and teachers
Individual Feedback
You can subscribe to Jam Play either through monthly or annual plans, at prices ranging from USD 9.99 and USD 19.95 per month.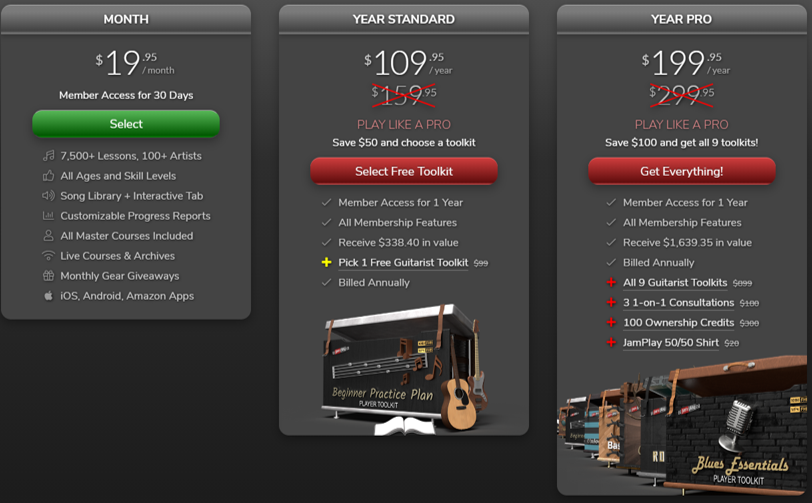 This is surely the platform with most available resources. This can be a bit frightening for beginners in guitar and somewhat hallucinating for intermediate and advanced guitar players. Something very interesting is that Jam Play agrees to refund the money to the client who, within a time frame of 30 days, shows dissatisfaction on trying out the course. Would you like to try it out?
TrueFire
Have you imagined yourself having a library with over 40,000 video lessons and 900 guitar classes at your disposal? True Fire has been on the market since 1991 and the company's experience really stands out for the quantity of content that is offered.
If you are a guitar player with some experience, you are sure to make excellent use of this. Even though there are plans such as 'Learn the Guitar 1', True Fire is structured in a way that is not so friendly for beginner guitar players.
Different from other online courses, TrueFire concentrates more on teaching techniques rather than teaching the student to play songs. For this reason, you will not have a large catalogue of songs to learn, but at the same time you shall find the most impressive list of instructors.
Names such as Steve Vai, Robben Ford, Tommy Emmanuel and Andy McKee are just some of the 200 professional people with incredible experience, who are part of the TrueFire team.
The courses offered are interactive, and available for apps in Windows, Mac, Linux, iOS, Apple TV, Android and Roku. All video lessons have slow motion camera resources, looping, synchronised guide, and tracking of progress.
It is worth pointing out that students of the all access plan may download the course produced by Brad Carlton. This content is available on Guitar Lab and consists of video classes, tabulation, notation, description of text and jam bands.
How does it work? An e-mail shall be sent monthly, as soon as the course is available for download. Learning tools (including tuner and metronome); free access to a forum for solution of debts; access to over 1200 audio lessons and 2 credits for the download of the Jam Pack per year – these are some other resources that are exclusive to TrueFire.
You can try out the platform for 30 days and then reach your own conclusions before you subscribe to the monthly or annual plans that cost USD 29 and USD 179 respectively.
Maybe you will also be interested in:
Return to: Simplifying Theory