Reharmonization with chord progressions
Continuing our study about reharmonization, we arrived at cadences! In the part "Mas o gato-to não morreu-reu-reu", right after Dm7(b5) comes C7M chord, right? So let's try to put G7 before C7M to create a progression II – V – I: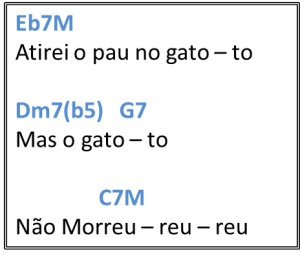 Now, right after F#m7(b5) comes Em7 chord, so we can add a B7 to create another progression II – V – I: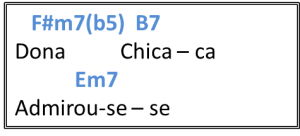 With this, F#m7(b5) became a second minor degree of Em7. But F#m7(b5) was already acting like a borrowed chord, so now it is a chord with a double function: borrowed chord and second minor degree.
Well, before F#m7(b5) there is C7M chord. This F#m7(b5) has only one note of difference from F7M. Compare it below:
F#m7(b5) notes: F#, A, C, E
F7M notes: F, A, C, E
So we can think that F#m7(b5) is acting like F7M and, in this case, C would be the fifth degree of F. Therefore, we can put a C7 right after C7M to emphasize this transition: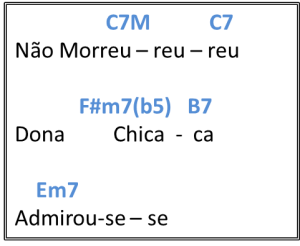 Another progression II – V – I that we can do with the chords Em7 and Dm7 in the next part, is putting an A7 between them: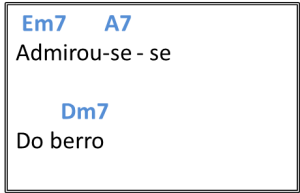 The final part has already a progression II – V – I, so we will not touch it: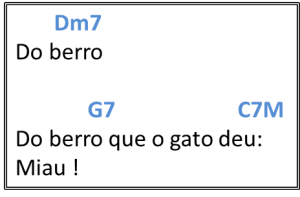 Great, we will see how our final reharmonization is: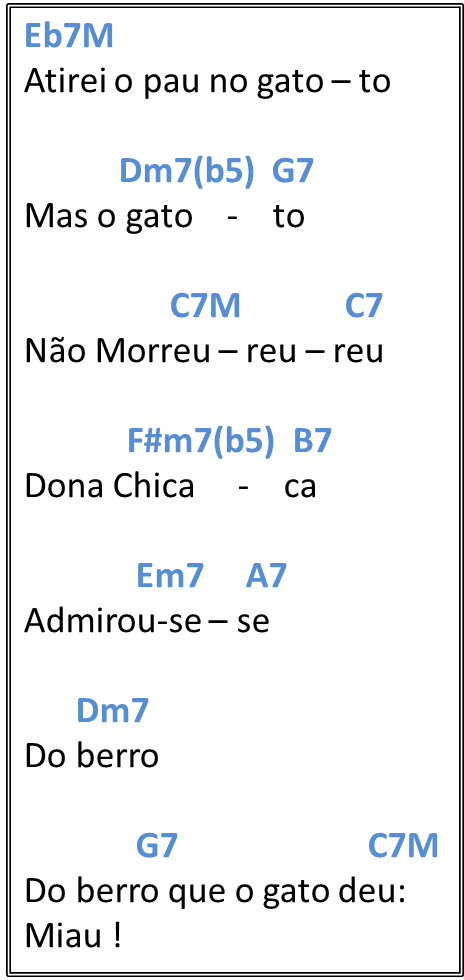 Listen to it in guitar pro: reharmonization5.gpro
It's really interesting this harmony, because we had a sequence of three cadences II – V – I, that goes from the part "Dona Chica-ca" until the end of the song (we call it extended cadence II – V – I). This made a children's song sound like Jazz!
Awesome, so now that you learned how to make reharmonization, it is time to stimulate your creativity and start to reharmonizate the songs you know. The more you practice, more ideas will come. The resources are many, aren't they?!
Enjoy it!
Go to: Blues harmony – advanced
Back to: Module 12