Is there a relation between Mathematics and Music?
We decided to create this topic to show Mathematics is related to Music, because many people ignore the fact the there is Mathematics in music. Maybe you don't like Math, but don't worry; we will try to explain each concept in a simple way, just for you to know that our sensitivity to sound is connected to the logic in our brains. This is really interesting, so let your prejudices aside. All the knowledge is nice when well taught.
Before going to the subject of Mathematics in music, let's remember some basic concepts.
Physics in music
Ok, in the first topics here in the website, we commented that sound is a wave, and that the frequency of the sound is what defines the music note. But what is frequency? It is a repetition. Imagine, for example, a bicycle wheel spinning. If this wheel completes a turn in 1 second, we say that the frequency of this wheel is "one turn per second", or "one Hertz". Hertz is just a name to represent a frequency unit, and normally is abbreviated by "Hz". If this wheel of our example completes 10 turns per second, its frequency would be 10 Hertz (10 Hz).
Nice, but where is the connection with sound? Well, sound is a wave, and this wave oscillates with a certain frequency. If a sound wave completes one oscillation in one second, its frequency will be 1 Hz. If it completes 10 oscillations in one second, its frequency will be 10 Hz. For each frequency, we will have a different sound (a different note). A note, for example, corresponds to a frequency of 440 Hz.
Mathematics in music
And where Mathematics enters in music? It was observed that when a frequency is multiplied by 2, the note still the same. For example, the A (440 Hz) multiplied by 2 = 880 Hz is also an A, but just one octave above. If the goal was to lower one octave, it would be enough just dividing by 2. We can conclude then, that a note and its respective note have a relation of ½.
Very well, before going on, let's return to the past, to the Ancient Greece. In that time, there was a man called Pythagoras that made really important discoveries to Mathematics (and music). This that we showed about octaves, he discovered "playing" with a stretched string. Imagine a stretched string tied in its extremities. When we touch this string, it vibrates (look the drawing below):

Pythagoras decided to divide this string in two parts and touched each extremity again. The sound that was produced was the same, but more acute (because it was the same note one octave above):

Pythagoras didn't stop there. He decided to experience how it would be the sound if the string was divided in 3 parts:

He noticed that a new sound appeared; different from the previous one. This time, it wasn't the same note one octave above, but a different note, that was supposed to receive another name. This sound, besides being different, worked well with the previous one, creating a pleasant harmony to the ear, because these divisions showed till here have Mathematics relations 1/2 and 2/3 (our brain likes well defined logic relations).
Thus, he continued doing subdivisions and combining the sounds mathematically creating scales that, later, stimulated the creation of musical instruments that could play this scales. The tritone interval, for example, was obtained in a relation 32/45, a complex and inaccurate relation, factor that makes our brain to consider this sound unstable and tense. In the course of time, the notes were receiving the names we know today.
Mathematics and music scales
Many peoples and cultures created their own music scales. One example is the Chinese people, which began with the idea of Pythagoras (using strings).
They played C in a stretched string and then divided this string in 3 parts, like we showed before. The result of this division was the note G. Noticing that these notes had a harmony; they repeated the procedure starting in G, dividing again this string in 3 parts, resulting the note D. This note had a pleasant harmony with G and also with C. This procedure was then repeated starting in D, resulting in A. After that, starting in A, they got E.
When they repeated this procedure of dividing the string in three parts once again, resulting in B, there was a problem, because B didn't fit well when played with C (the first note of the experiment). Actually, these notes were really close one another, what caused a "sound discomfort".
Because of this, the Chinese finished their divisions getting the notes C, G, D, A and E, taking B aside. These notes served as base to Chinese Music, making a scale with 5 notes (Pentatonic). This Pentatonic Scale, for being pleasant and consonant, represented very well the Oriental Culture, which was always connected to harmony and stability.
Since its creation until today, the Pentatonic Scale represents a good option to melodies, as we already said in the topic "Pentatonic Scale". But let's return to the subject of notes and frequencies, because we just showed 5 notes of the scale.
The Mathematics of 12 notes
The western music, which works with 12 notes, did not discard the note B as the Oriental Culture did. The western people observed that the notes C and B were close one from another and decided to create a more comprehensive scale. In this scale, all the notes should have the same distance one from another. And this distance should be the interval that had between C and B (one semitone). In other words, between C and D, for example, should exist an intermediate note, because the distance between C and D (one tone) was bigger than the distance of C and B (one semitone). Through an analysis of frequency, it was discovered that multiplying the frequency on the note B by the number 1.0595 we would arrive in the frequency of C. Check it:
Frequency of B: 246.9 Hz
Frequency of C: 261.6 Hz
Multiplying the frequency of B by 1.0595 we will have:
246.9 x 1.0595 = 261.6 Hz (the note C).
As the goal is to keep the same relation (distance) to the other notes, we will use this procedure to discover which note will come after C. Multiplying the frequency of C by 1.0595:
261.6 x 1.0595 = 277.2 Hz (the note C sharp)
Repeating this procedure to see what comes after C sharp:
277.2 x 1.0595 = 293.6 Hz (the note D)
Notice that following this logic, we can create all the chromatic scale! In other words, after multiplying the frequency of C by the number "1.0595" twelve times, we will return to C. This is possible because "1.0595" corresponds to the result of the square root 12√2. Notice that 12√2 multiplied 12 times by itself is (12√2)12 = 2. And we already saw that a note multiplied by 2 is itself one octave above.
Now we can clearly see that these numbers didn't come by chance. The goal since the beginning was dividing a scale in 12 identical parts, in a way that the last note return to be the first.
It was like this that Equal Temperate Scale appeared, also called as Chromatic.
Logarithm in Music
We will not go in many details, but those who know a little bit about Math have noticed that we worked here with the logarithm of base 2. Because of this, the makers of piano put the form of a logarithm graphic in the piano body, to make a reference to this Musical Mathematics Discovery. Check it:
Example of a Logarithm graphic: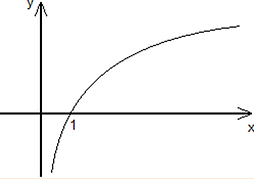 Piano body: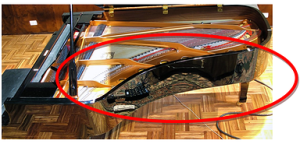 There are many other Mathematical explanations to many questions about music, but to show them here it would be necessary to talk about advanced topic in Mathematics, like Fourier series, Riemann Zeta Function, etc. Like few people have this base in Mathematics, we will not go deeper.
Our goal here was to show how music works mathematically and how the logical relations are understood in our brain, creating tranquility or tension. Obviously, we did everything using approximation (round numbers), because an analysis more accurate would be boring to the majority of the readers.
It is not necessary to memorize all that we taught in this topic; just think that music didn't come from nowhere. Music is the result of a numeric organization. The interpretation of all these things is done by our wonderful and mysterious brain.
The final conclusion is that, if you are a musician, so you are (in a way or another) mathematician, because the feelings of pleasure that you feel while listening to music hide subliminal calculations. Your brain likes calculations, it is a calculating machine! The more you practice, study and know music, the more this faculty will be developed. Probably you will begin to feel pleasure while listening to songs that before didn't bring great feelings to you.
We can compare this with a student of Physics in the first semester. If he reads a book of modern Physics, it will looks like Greek to him. It will not give him any pleasure. But some years later when he will have a good base of Mathematics and face this book again, maybe he can love the subject and could wish spend the rest of his life in this.
Go to : Module 12
Back to: Simplifying Theory