Music Theory for Dummies PDF – Ebook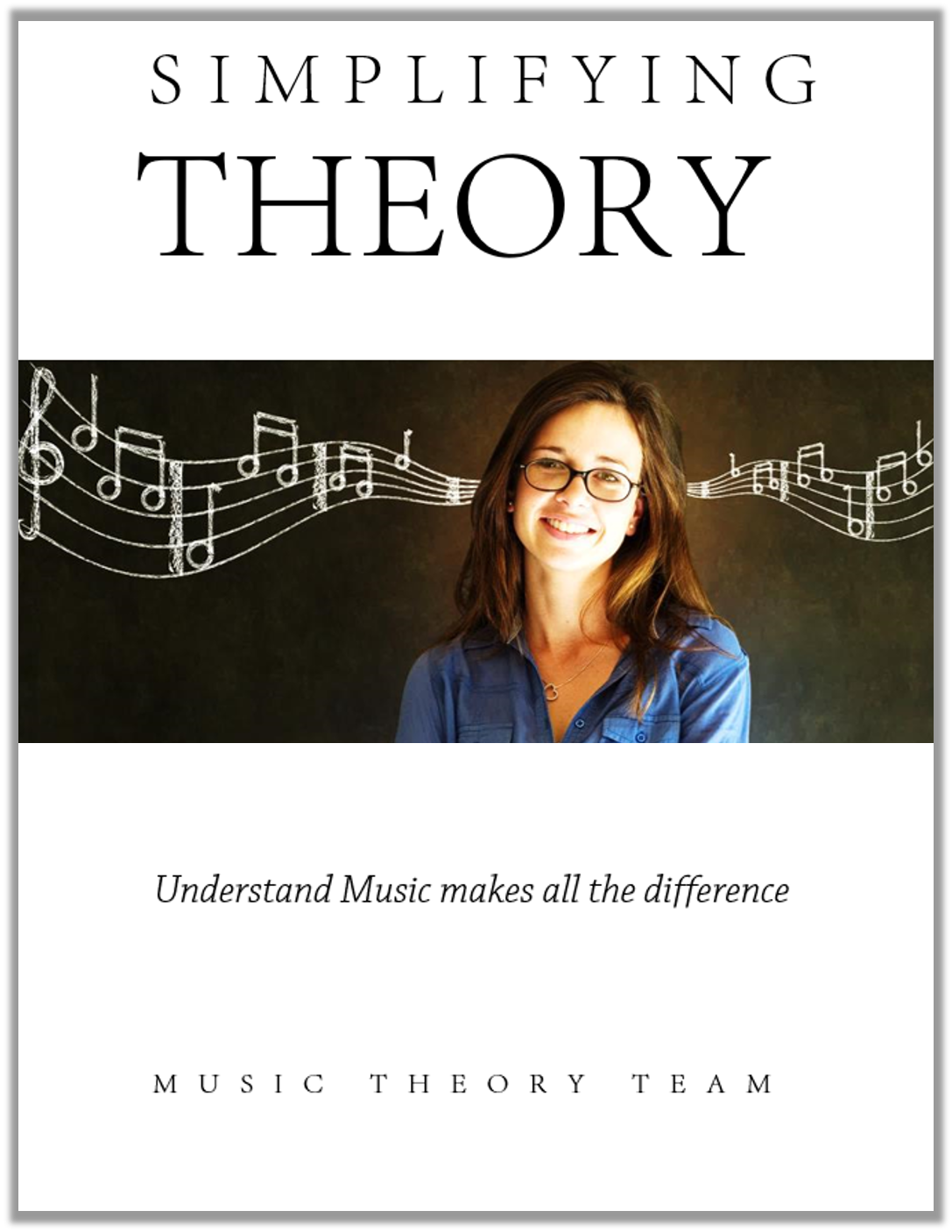 Just on "Simplifying Theory – Ebook" you can find more than 100 exclusive classes about music theory.
The biggest problem of music theory courses and workbooks is the lack of didactics. Unfortunately, authors forget to teach basics concepts before teaching more complex ones. They do not explain the reasons behind things and use flowery language in explanations. Furthermore, sometimes they bring few practical examples and use notations and music symbols without considering that the student may be unable to read them.
There is no use in teaching a scale in a sheet music if the student is not able to read a sheet music; there is no use in explaining chords concepts talking about triads and tetrads if the student does not know what these are. For that reason it is necessary an organized course from which students may learn the prerequisites and thus advance according to the teaching plan. The fact is that unfortunately the music theory teaching still finds itself in the Baroque period, in other words, it has stopped in time.
Besides, there are few books that discuss music theory in a comprehensive and connected way. Often you will find on the internet pdf files on specific music topics that do not necessarily connect to other concepts, which makes that knowledge impracticable. In those books you find a piece here, a topic there, and at the end you find that it is a real "mental juggling" to understand something.
A new way of teaching
In order to correct these common problems in the teaching of music theory, we created the website "Simplifying Theory". Starting with the simplest concepts and advancing to the most complex ones and always trying to make connections with the music in practice here you will, in an organized and didactic way, find practical and simple explanations about the most diverse music themes. We also use an easy, modern and updated language, in order to avoid that your reading becomes tiring.
To whom is this music theory course in pdf format?
Beginners find in Simplifying Theory a real guide to how studying and learning music theory. Here intermediate and advanced students find solutions to various questions that may arise from their learning. Our concern is, filling knowledge gaps that disrupt the development, to form a solid and efficient knowledge background and present features and exclusive tips for any musician that wants to upgrade his or her versatility. We don't care only about musical concepts themselves, but also about the application of these concepts into practice (how to put theory into practice), because knowledge is useless if it does not result in a musicianship improvement.
This pdf file contains, in the menus, links for you to navigate more easily through it (by clicking in a link from a menu, you will be automatically directed to that subject's page). You can see that in this example: (soon!)
The quality of the pdf ebook is the same as the articles present on the website. Those articles were organized and structured to make the learning easier. The didactics includes tables, diagrams and symbols: (soon!)
Ebook Contents
Our music theory Ebook in PDF is structured as follows: 
Module 1
What is music?
Music note
Timbre
Tone and Semitone
Guitar notes and piano notes
Music scales
Module 2
C major scale guitar
Degrees and music intervals
Augmented, Diminished and Perfect
Octave
Definition of chord
Music Intervals – another view
Bar lines
Module 3
Guitar fingers
Arpeggios
Chord names
Chord symbols
Tonality
Music theory terms
Chromatic scale
Module 4
Improvisation in music
Relative minor and major
Modes
Pentatonic scale
Blues definition
Blues scale
Module 5
Harmonic Function
Tritone
Deceptive resolution
Chord inversions
Modulation
Target notes
Module 6
Octave Displacement
Chromatic approach notes
Chord progressions
How to use chord progressions
Kinds of cadences
Circle of fifths
Module 7
Secondary dominants
Extended chord
Suspended Chords
Disguised Chords
Tone vs Tonality
Parallel Key
Module 8
Closely related Keys
Scales application
Harmonic minor scale
Melodic minor scale
Altered scale
Symmetrical scales
Module 9
Closely related Keys
Scales application
Harmonic minor scale
Melodic minor scale
Altered scale
Symmetrical scales
Module 10
Interpolated chord
Borrowed chords
How to modulate
Bebop scale – bebop jazz
Whole tone scale
Lydian dominant mode
IVm6 chord
Module 11
The chord II7
#IVm7(b5) chord
Improvising with outside notes
Improvisation in blues
Improvisation in jazz
Reharmonization
Chord substitution
Module 12
Greek Modes substitution
Reharmonization borrowed chords
Reharmonization with chord progressions
Blues harmony
Rhythm theory
Rhythm exercises
Mathematics and music
How to read guitar tabs
Notes, chords and techniques
How to read sheet music
All about sheet music (16 lessons)
The symbolic price to acquire the "Simplifying Theory – Ebook" is U$ 9.90. You can do your purchase by Paypal.
In a maximum period of 48 hours after the validation of your payment you will receive the attached "ebook" by e-mail. For this reason, make sure to fill in your email correctly. If you have any questions, please contact us by Contact Us.