Guitar notes and Piano notes
How to find the musical notes in your instrument?
In this topic, we will show you how the 12 notes are located (C, C#, D, D#, E, F, F#, G, G#, A, A#, B) in some instruments (guitar and piano). Let's start with the keyboard/piano.
Piano Notes
In this instrument, the black keys have the notes with accidents (sharps) and the white ones have the other notes. You can see this below: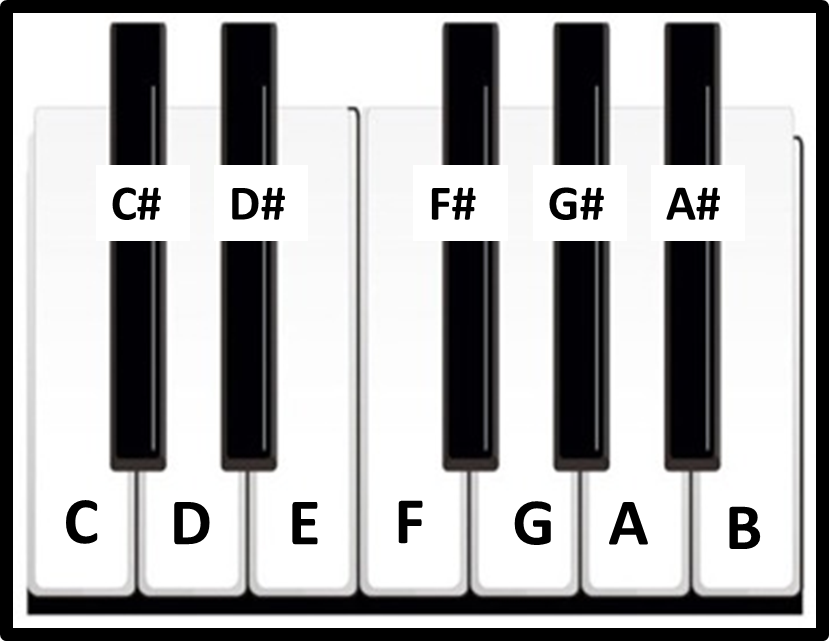 Guitar notes
In guitar, each string corresponds to a determined note (E, B, G, D, A, E, respectively from the higher to the lower notes). The other notes are distributed as the picture below, where the numbers represent the frets in the guitar fretboard:

Unlike on the piano keyboard, there is no obvious repeating pattern to the notes on a guitar. See that in guitar is quite hard to memorize all the notes, but this will be easier progressively as you will be studying the subjects here in the website, because there are some shortcuts that help in immediate localization (to think in degrees, chords, scales, etc.). With time, certainly the guitar fretboard will be completely dominated by you. Don't worry about that. Anyone wanting to master the guitar fretboard will find all the help they need from this website. The learning of guitar notes and piano notes are just the beginning.
Go to: Music scales
Back to: Module 1