Established in 1999, Binary.com has rapidly evolved into a prominent and respected player in the financial market, specializing in binary options trading. This platform facilitates trading across a variety of market segments, including cryptocurrencies, commodities, Forex, CFDs, indices, stocks, options, and many more.
Binary boasts a suite of advanced trading platforms, such as SmartTrader, MetaTrader5, Tick Trader App, Binary Webtrader, TradingView, Ladders, SmartCharts, and Binary Bot.
Since 2015, the company has been licensed and regulated in the UK, and also operates a valuable TV channel, providing customers with free access to the latest news and developments in the financial markets. Binary/Deriv consistently enables withdrawal of funds in both Brazilian reais and cryptocurrencies, affirming its reliability.
Furthermore, the Binary Academy is a noteworthy feature, providing a learning center that caters to novice investors with video tutorials, articles, events, and more. The platform and app are also available in Portuguese.
It's worth noting that Binary has recently rebranded to Deriv, thus both names refer to the same entity.
Binary (Deriv): A Leader in Binary Options Trading
Binary options, alternatively known as digital or fixed return options, are financial operations aimed at yielding short-term profits through betting on the fluctuation of financial asset prices. A comprehensive article detailing how they operate is available on our platform.
In practical terms, rather than investing in stocks for long-term gain, binary options enable you to wager on the price movement of an asset within a specific time frame. The key to consistent returns with binary options lies in knowing which asset to trade and when to do so.
Every day, news events impact asset prices. For instance, an unfavorable announcement from a significant company or an indicator suggesting potential recession in a country's economy can directly influence the stock prices of companies associated with that country.
One way to profit from binary options is through high/low options. If your prediction is accurate, you could earn up to 95% of your investment. Another strategy involves touch options, where you predict that the asset price will hit a certain level within a set time. If successful, you can gain up to 80% of your investment. However, a wrong prediction will result in a loss, so careful consideration is essential.
To place an effective wager, a deep understanding of the asset you're trading is necessary. For instance, if you're trading Apple stocks, you must keep abreast of key US economic indicators and the company's latest news, as these directly affect the stock price.
To summarize, succeeding in binary options trading requires:
Keeping up with news related to your trading assets.
Monitoring major economic indicators.
Conducting thorough technical analysis of the charts.
Selecting a reliable broker.
Investing money that you can afford to lose.
How to Register on Binary/Deriv?
Binary offers two types of accounts:
Demo: A virtual account pre-loaded with $10,000 in fictitious credit to practice investment strategies. This credit is replenishable and available indefinitely, with no risk of real losses.
Real: This type of account is activated upon the first deposit, allowing you to earn real profits credited to your account.
Here's how you sign up and get started with trading on Deriv step-by-step:
Simply visit this page and click on the 'Create free demo account' button.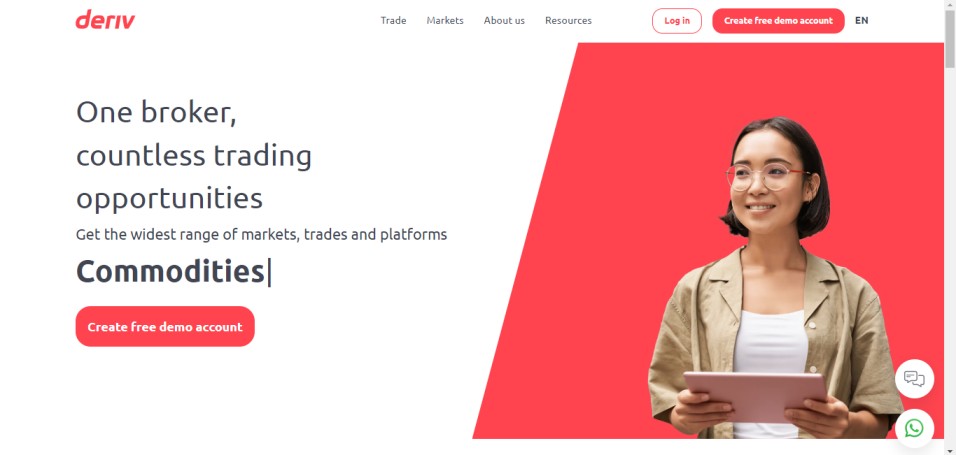 Start by entering your email, accept the terms and conditions, then click on the 'Create a demo account' button.
*Optionally, you may also sign in using Facebook, Google, or Apple accounts.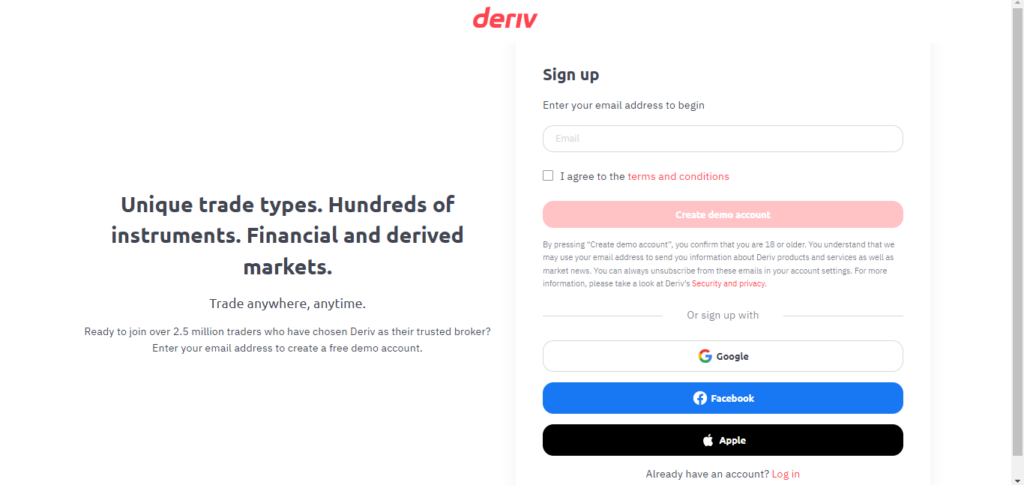 A verification message will be sent to your email address to activate your account. Check your inbox and look for the Deriv email.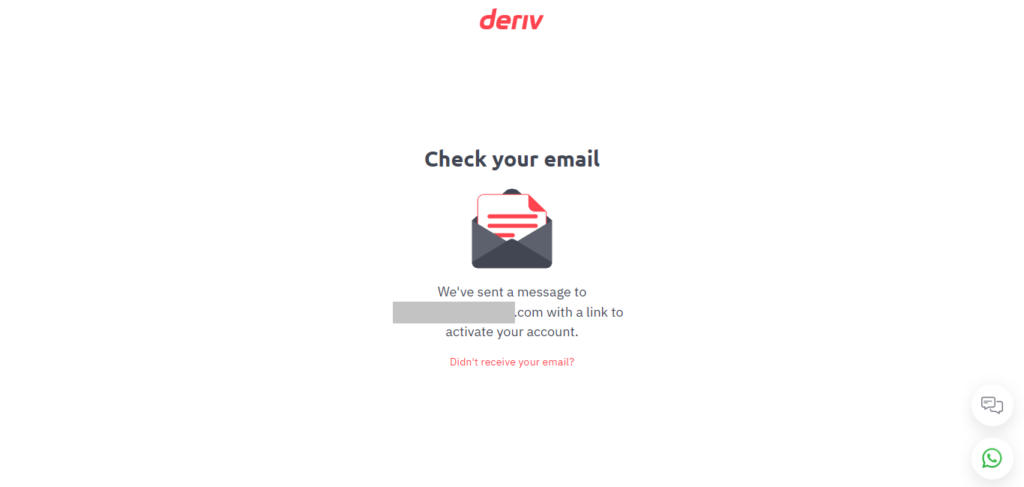 Once you've located the email, click on the 'Check my email' button.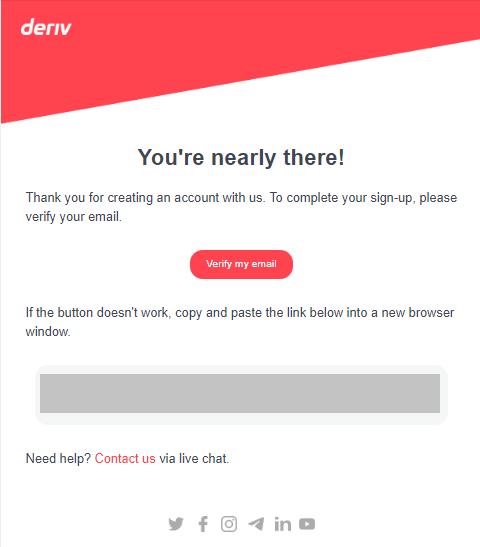 You'll be directed to a page where you can select your country of residence. Click 'Next' after making your selection.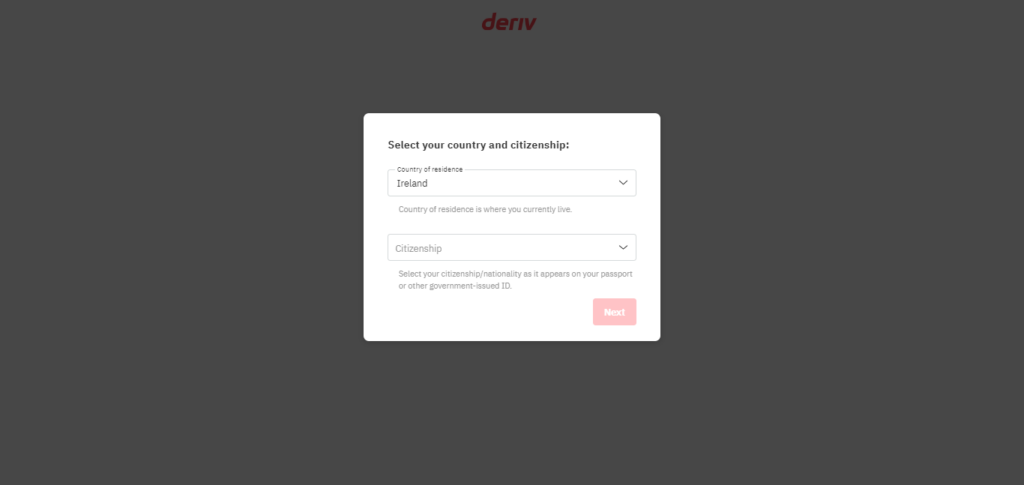 You'll need to specify if you are a citizen or a foreign resident.
Then, create a password and click on the 'Start Trading' button.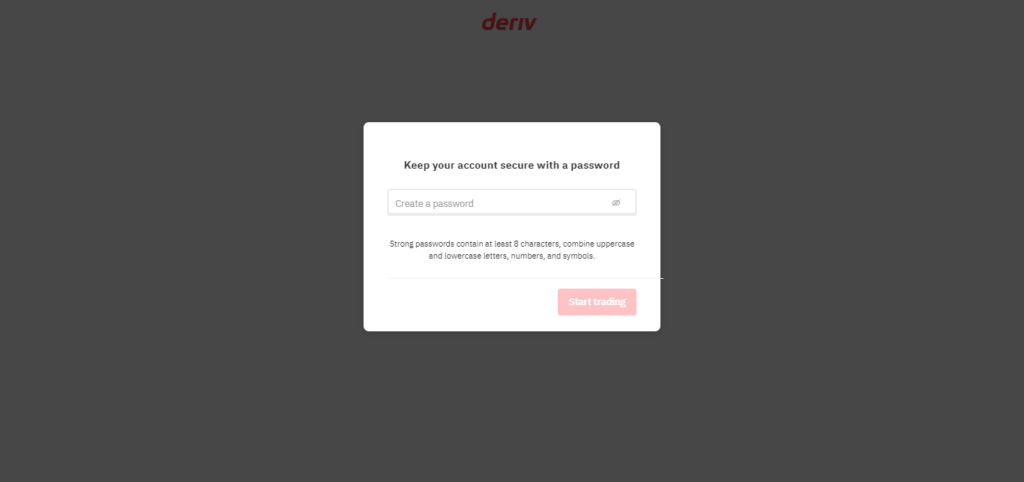 The next page will provide a walkthrough of the platform's menus and tools. Navigate through the tutorial by clicking 'Next' on each screen.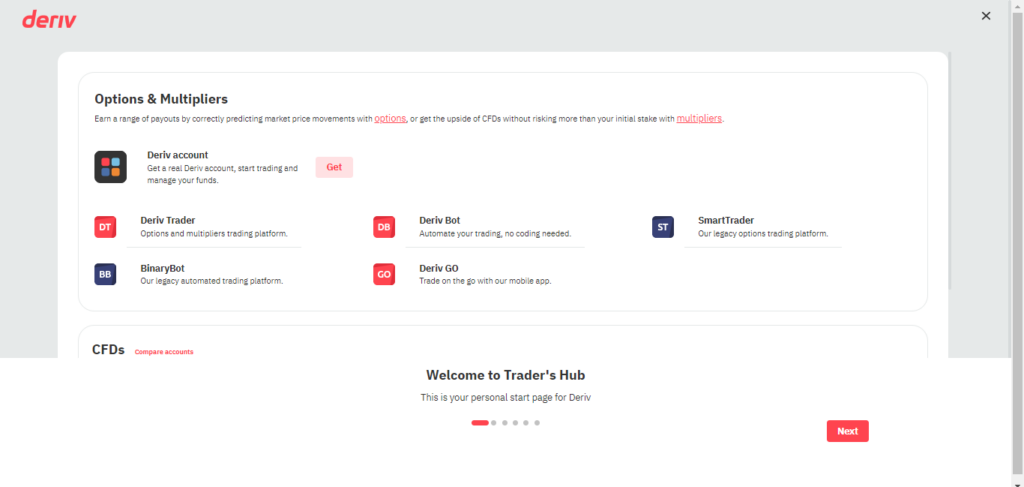 At the last screen, click the 'Start Trading' button.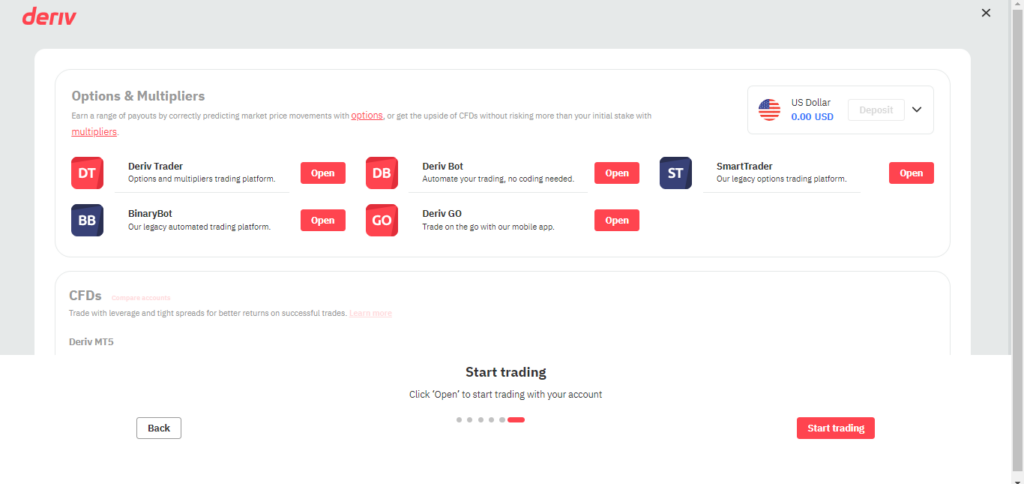 Sign in again by entering your email address and password, then click 'Connect'.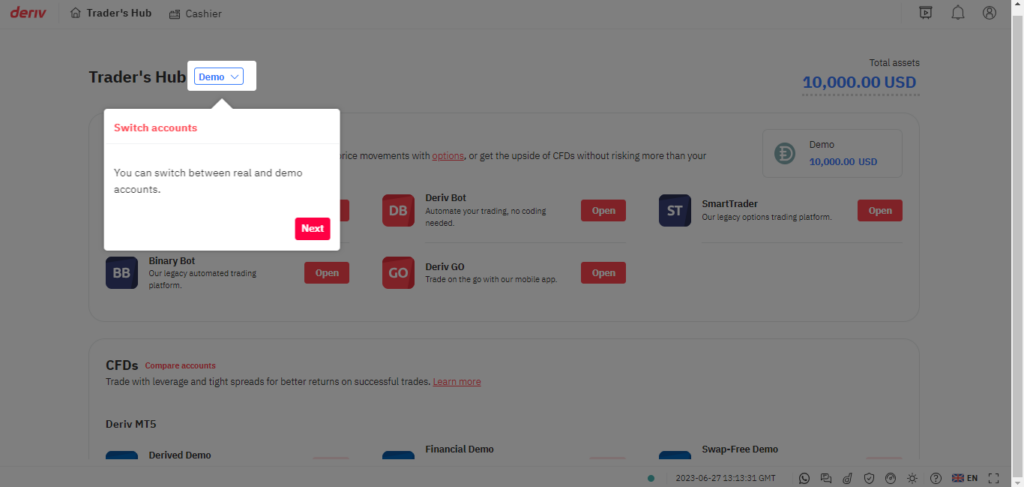 Carefully read the prompts and click Switch accounts. Finish the process by clicking the 'Ok, I understand' button if any disclosure appears.
You'll be taken to the DT (Deriv Trader) panel, where real-time trading can be done with line graphs and your chosen indicators.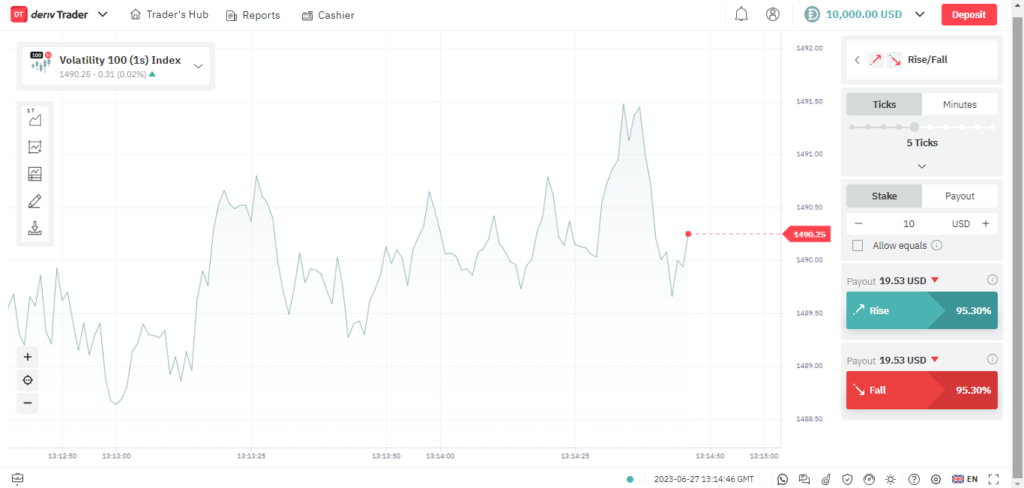 For added security before making any trade, it's recommended to enable Two-Step Authentication. You can do this by clicking on the profile icon and selecting 'Two-factor authentication'. Scan the QR Code with the Google Authenticator app and activate by clicking 'Enable'.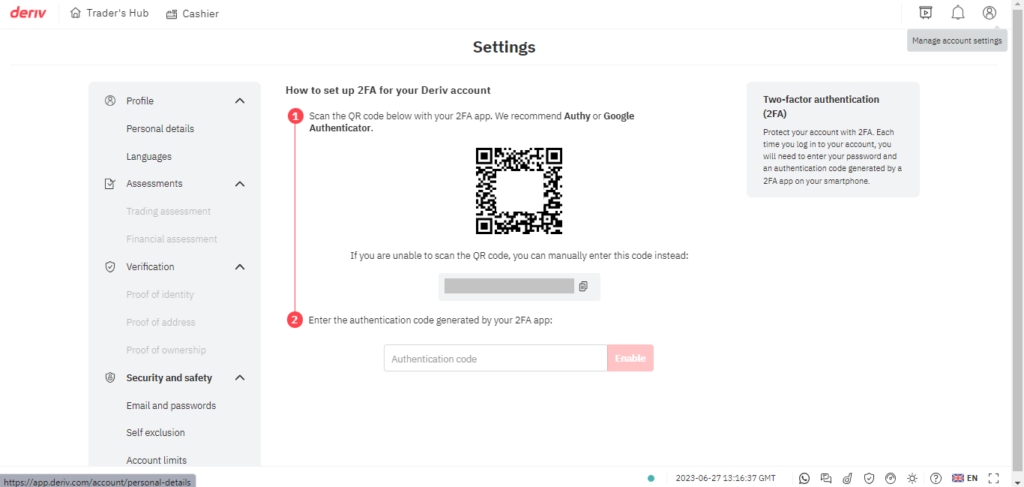 After this, you'll need to sign in again. Enter your email and password, followed by your Google Authenticator code on the next screen, then click 'Next'.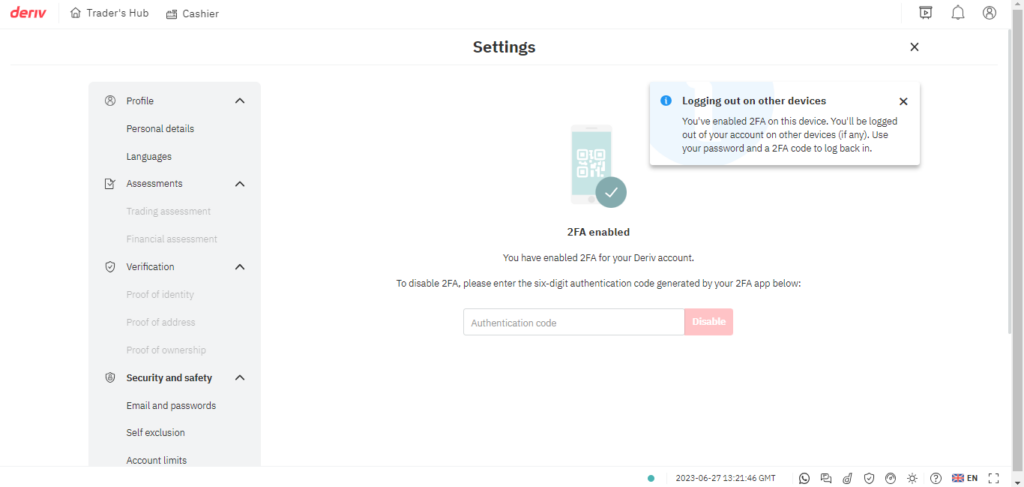 Congrats! Your security settings are now active.
How to Make Your First Deposit at Deriv
Click on the 'Deposit' button on the right side of the screen. A prompt will appear requesting you to switch to a Real account. Click on the 'Account Switcher' icon and then 'Add Deriv Account'.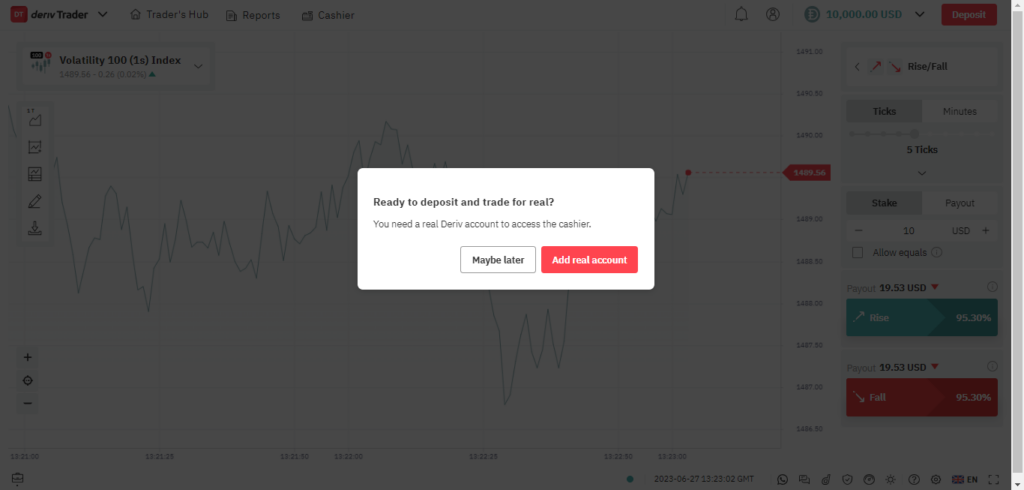 Choose the currency or cryptocurrency for your account and click 'Next'.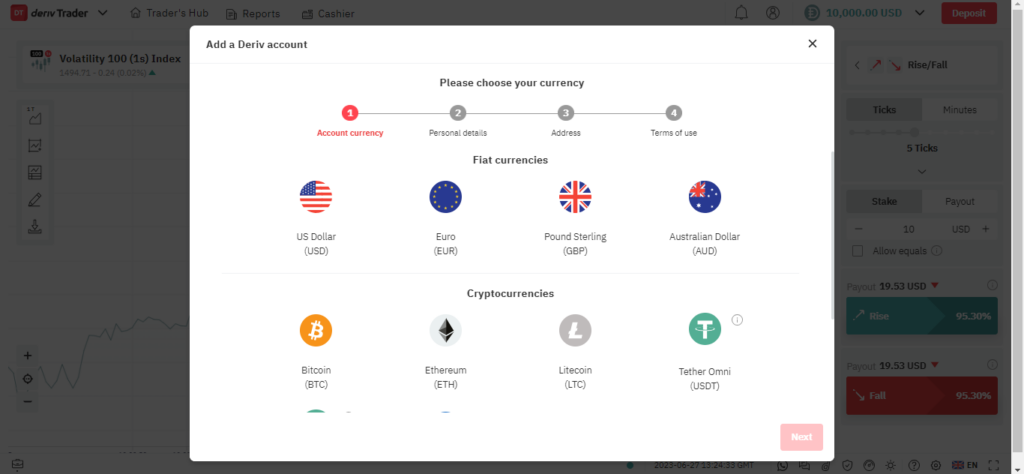 Next, fill in your First Name, Last Name, Date of Birth, and Phone Number fields, then click 'Next'.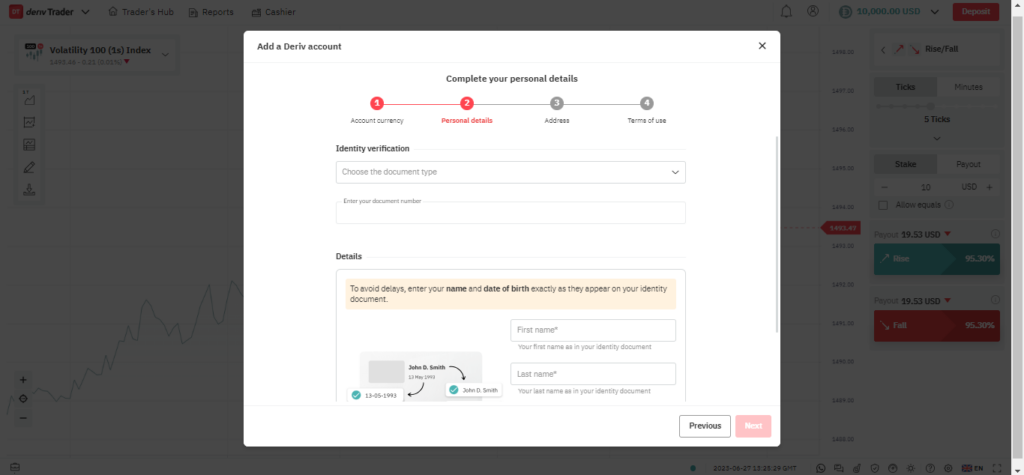 Enter your address details and click 'Next'.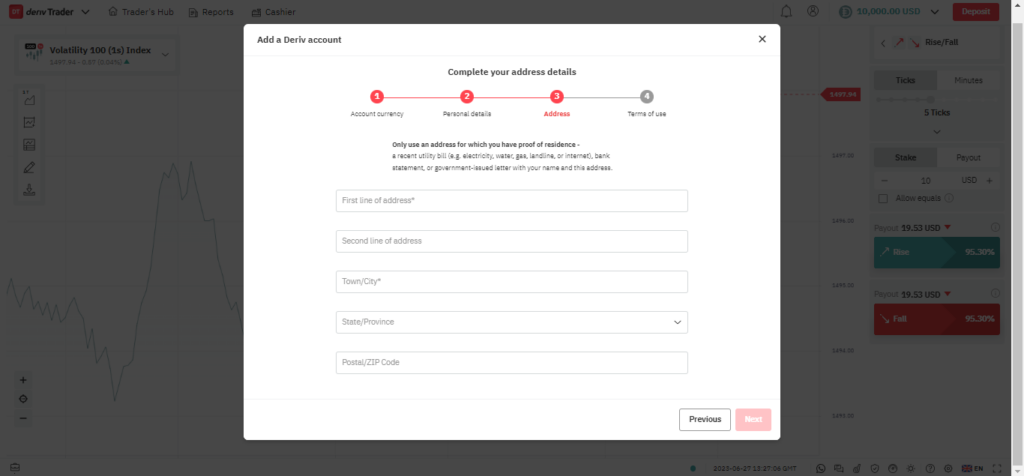 In the identity information field, input your ID (if applicable) and click 'Next'.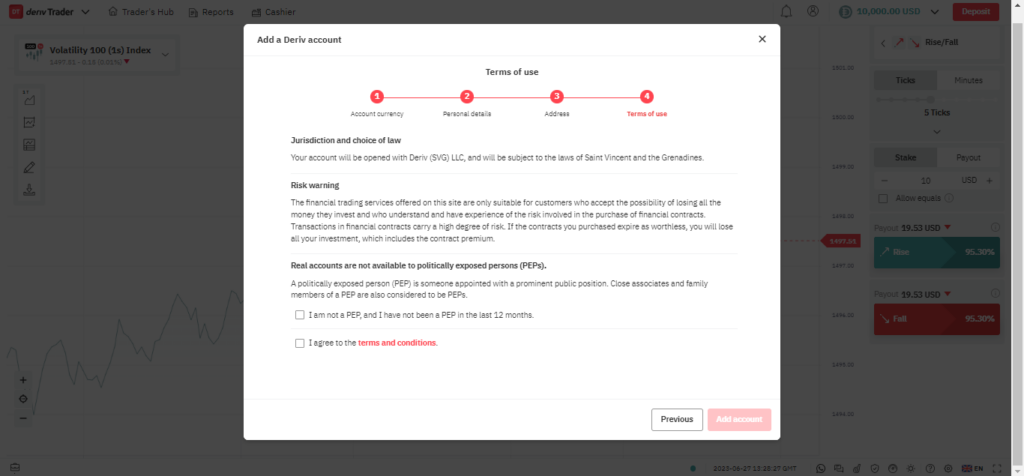 Finally, confirm that you are not a Politically Exposed Person (PEP) and accept the platform's terms and conditions, then click 'Add Account'.
Voila! Your Real account is ready! Now it's time to deposit funds by clicking on 'Deposit'.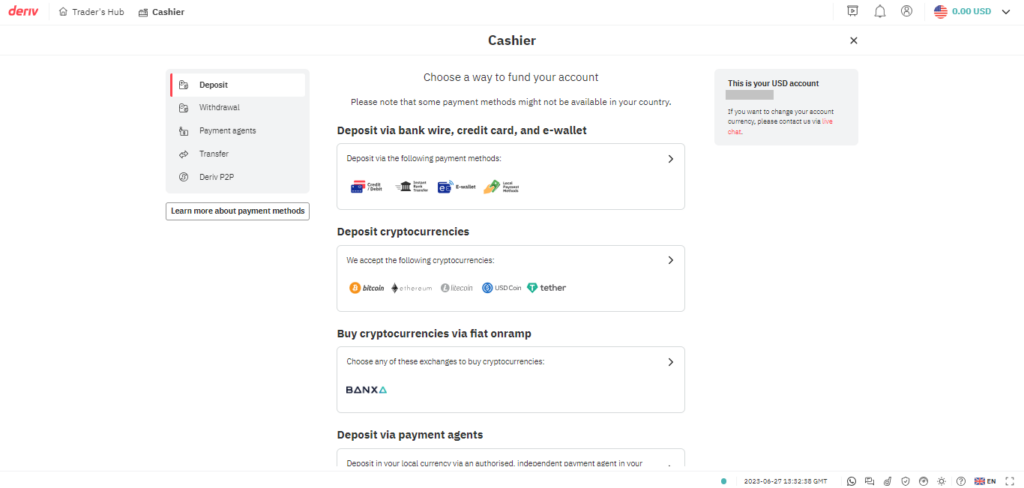 The minimum deposit is $5 and can be made by Bank Wire Transfer, Visa, MasterCard, JCB, Skrill, Neteller, Webmoney, Fasapay, Perfect Money, Paysafe, Jeton, Stick Pay, AIRTM, PayLivre, Trustly, AstroPay, iWallet, 1foryou, Advcash, or cryptocurrencies like BTC (Bitcoin), LTC (Litecoin), ETH (Ethereum), and Bitcoin Cash (BCH).
How to Trade on Deriv
On the Deriv platform, trades can be initiated with as little as $1, depending on your financial capacity and risk tolerance. All trades are executed in real-time, and you can select the estimated duration for the contracts. Common intervals are 30 seconds, 1 minute, and 5 minutes.
As for trading options, here are some you can find on the top left menu: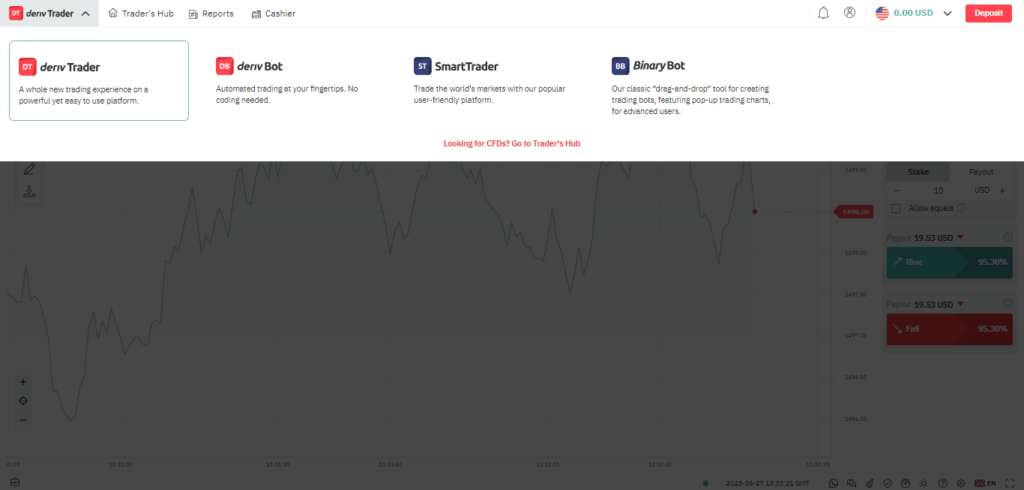 DTrade: Trade Options on financial or synthetic markets in three simple steps: select an asset, follow the chart, and purchase a contract.
DBot: Automate your trades with no programming skills required. It's as easy as connecting blocks, like playing with Lego.
Deriv MetaTrader 5 (DMT5): Trade with either a Financial (CFDs on forex, stocks, equity indices, commodities, index baskets, and cryptocurrencies) or a Synthetic account (CFDs on synthetics, index baskets, and FX derivatives).
Deriv X: Trade CFDs on forex, index derivatives, cryptocurrencies, and commodities with high leverage. SmartTrader: Platform for trading on global markets.
Binary Bot: A user-friendly drag-and-drop tool for creating bots.
Is Deriv Regulated?
Deriv is based in Malta (license no. IS/70156) and is regulated by the Malta Financial Services Authority under the Investments Services Act to provide investment services across the European Union.
Deriv also holds licenses in Malaysia (no. MB/18/0024) and the Virgin Islands (no. SIBA/L/18/1114), among others.
Customers globally (with exceptions for prohibited countries such as the United States, Canada, and Hong Kong) who wish to trade CFDs on Forex and cryptocurrencies can open an account with Deriv FX Ltd.
Is Binary.com the Same as Deriv?
Indeed. After creating your account at Binary, you will be redirected to the Deriv.com platform. Despite the different names, it's the same company.
Is Deriv well-known in Africa?
Indeed, Africa is among the top users of the Binary Deriv platform. Its user-friendly interface and high-quality service inspire trust not only among Africans, but also in numerous other English-speaking countries.
Kenya, South Africa, Nigeria, Zimbabwe, Botswana, Tanzania, and Uganda are among the African countries that most frequently use Binary.com/Deriv.
RISK WARNING: Binary options and Contracts for Difference (CFDs) are complex financial instruments and come with high risk. You may lose your entire initial investment. They are not suitable for all investors due to their complexity and associated risks. Prior to trading, it's crucial to fully understand the risks and seek professional advice. Past performance does not guarantee future results. Ensure that you comply with local laws and regulations, as you are solely responsible for such analysis and verification. Proceed with caution at all times.