You should have noticed that these "poor" 5 lines in the staff can't handle all the representation of the whole extension of notes that there are in the octaves. This is why we use ledger lines. These lines are nothing more than the continuation of the staff; they are used to represent notes that surpass the bottom and up limits. Observe it:
Example of ledger lines

When you see these little dashes, try to imagine the image below. Keep counting the notes the same way that you used to do in staff: each space or line is a different note.

There is another resource to represent notes in octaves that are really high or low sounds. That's the symbol "8v". In sheet music, it appears like this: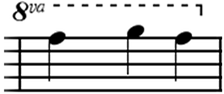 In this sheet music, the symbol 8v is followed by the letter "a", which means "above". The interpretation it's not hard: the highlighted part (F, G, F) should be played one octave above the position that it is in the staff. If the idea is playing one octave below, the letter that will be used will be "8vb".
Nice. Up to here you were introduced to three resources that register the notes and its octaves: the clefs, the ledger lines and the symbol "8v". In the piano, there is not a rule about using one or another. They are used according the will of the musician, regarding that they produce the same effect. Check the example below:

Observation: although there are no rules, it is always convenient to write in the "simpler" way as possible, after all, sheet music exists to help musicians, not to complicate their lives.
Go to: key signature
Back to: sheet music guide