Bass Clef is used to represent the lower notes (bass). The lowest bass octaves in the piano don't have correspondence in staff of Treble Clef. This is the reason why another clef was created. Bass Clef follows the same logic as Treble Clef, but the localization of the notes is quite different. Here, the symbol is drawn after the fourth line and indicates that in this line is the F note. Notice that this note is between two points in the image. Knowing this, we can write the other notes:

Localization of notes in Bass Clef
In the piano, the localization of octaves is in the following way in this clef: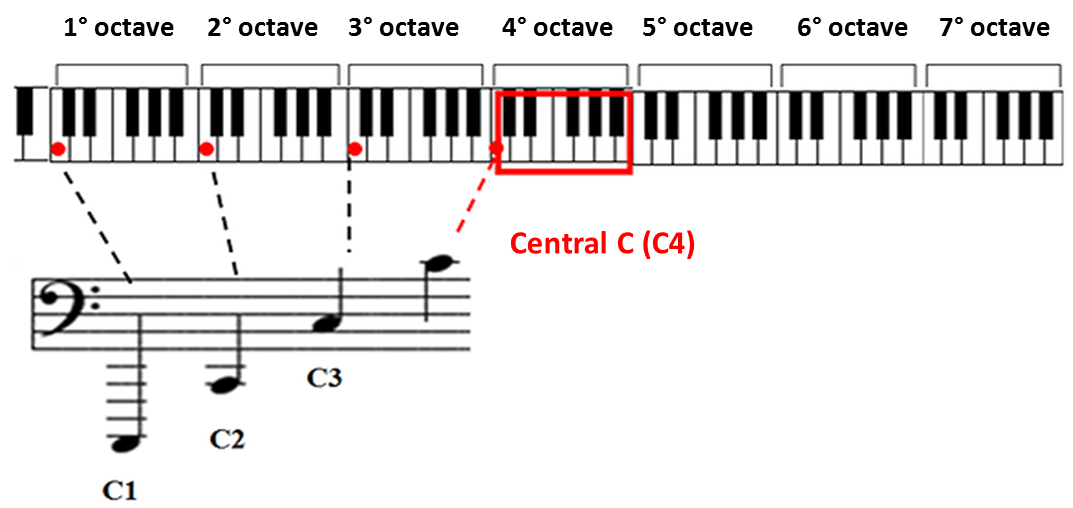 Notice that in the Bass Clef there is the same C that you saw represented in the Treble Clef (central C). It is a meeting point!
As this clef shows the lower notes (bass), in the piano it represents what you should play with the left hand, while the Treble Clef shows what you should play with the right hand. This is why sheet music for piano use to have two staffs (one for each clef) simultaneously, since we can play with both hands in the same time.
In guitar, we use only Treble clef. Other examples of instruments that use Bass Clef are: bass, cello, bassoon and trombone, as well as the lower voices.
Go to: Ledger Lines
Back to: sheet music guide