What is the difference between tone and tonality?
 Actually, tone and tonality are different things. Here are their definitions:
Tonality
Is a specific system of sounds (scales). There are the major, natural minor, harmonic minor and melodic minor tonalities. When we say the word "tonality", we are relating to one of these systems, which are scales associated to harmonic fields.
Tone
Is a note where we perform the tonality. As there are many different notes, we can have the same tonality in different tones; or we can have the same tone in different tonalities. See the examples bellow (notice that "harmonic field" is a joint of tone with tonality):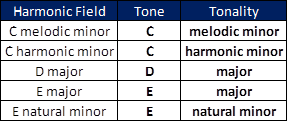 In practice, though, these two definitions are mixed. Nobody says: "C tone in minor tonality". Therefore, these terms have the same meaning in practice. There's no need for getting mad with these subtleties, at least if you want to do a mandatory pre-entering exams of music in a university or something like that.
Go to: Parallel Key
Back to: Module 7