Extended chords are chords that have extended or added notes beyond the seventh. These extended notes are all the other notes that form a chord, besides the "chord notes". Remember that the chord notes are those which form the triad and tetrad of a chord. Let's take as example Cmaj7 chord. It is formed by C, E, G and B notes, which correspond to first degrees 1, 3, 5 and 7. This is the tetrad of this chord, in other words, the notes C, E, G and B are called "chord notes" of Cmaj7.
If we add any other note to this chord, for example, the ninth, the chord would be: C7M(9). In this case, the ninth would be called as "extension note".
All the notes that are not 1st, 3rd, 5th and 7th degrees will be called extension notes. Notice that there are only 3 degrees of possible extensions (fourth, sixth and ninth). Observation: ninth is equivalent to the second degree.
Until now, we used the tetrad only to create a harmonic field (we talked about Cmaj7, Dm7, etc). So, to finish this subject, it is time to analyze the notes that are missing (4th, 6th and 9th).
How to create extended chords
Our study will be showing which of these notes can be used by each chord in major harmonic field. In other words, to a song that is in C major, for example, can we play Dm6 chord? And the FM7(9) chord? These questions will be answered.
This will help you when composing or reharmonizing songs, because you will know which extensions can be used in each chord and which ones must be avoided. The reasons to avoid some extensions are:
We will explain in details what each one of them is.
Let's use as example C major harmonic field. Remember that this concept works for all other notes.
The C major harmonic field is:
    I              II              III              IV            V            VI                 VII
C7M          Dm7          Em7          FM7         G7         Am7          Bm7(b5)
When we talk about notes to be avoided, remember that we are talking about notes that belong to C major scale, because the harmonic field is C major. This is important to highlight, for example, the Fmaj7 scale (in this harmonic field of C) is F Lydian, not F major. So, for this chord, we will use the Lydian scale. Don't be scary when you see an augmented fourth, for example, analyzing if it must or not be used in this case. We are analyzing only the notes of C major scale, and these notes, when the chord is not C, receive a different reference in the point of view of degrees; this is why you will see diminished fourth, augmented fourth, etc. Think in the greek modes. The drawing of the major scale will be used only to Cmaj7; the other chords will have their scales according to its respective Greek mode. I suggest that you have in hand the scales of Greek modes to make your study easier in this topic.
Cmaj7 Extensions
We will begin analyzing the first chord (Cmaj7). See bellow the C major scale and all the possible extensions (fourth, sixth and ninth):

The notes are, respectively, F, A and D. Let's see how the chord Cmaj7 is for each one of these extensions:
With fourth: Cmaj7(4)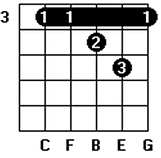 With sixth: Cmaj7(13)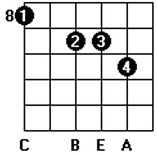 With ninth: Cmaj7(9)
The question is: Can we use all the extensions in C major harmonic field?
Answer: All the extensions can be used, except the fourth degree. In other words, we cannot play C4 or C7M(4). Reason: the fourth degree to this chord is the note F. Ok until here, because this note belongs to C major scale (so, in theory it could be used). But, it is one semitone of distance from E, which is a chord note (the third) of C7M. What is the problem of that?
Well, if we put F with the chord C7M, creating a C7M(4), we would be playing simultaneously two notes that are distant by a semitone (E and F), and this would sound really unpleasant. Take your instrument and play simultaneously two notes that are separated by one semitone only. Can you see how this is bad? This is happening because we have a chromatic approximation. You will learn, in our study of "SubV7" that this approximation serves to prepare the way where we want to go.
For example, let's say that a bass player is playing the G note, in a harmonic field of C, because the chord of the moment is G, and the next chord of the song is A minor. Before playing A, the bass player could play flatted A to then play A. This effect of chromatic approximation sounds very good, because it seems that we are rising one scale (G, G#, A), where the next degree is already indicated (when we play flatted A, immediately we wait that the next note be an A). For this, playing flatted A with A (both notes in the same time) brings some confusion. The impression is that we are in conflict, because both notes are really close and they should be played in sequence, not in the same time. The confusion emerges from the doubt in our brain: "Do we want rest flatted A in A?", because the chromatic sequence could be Ab – A or A – Ab. In the first case, Ab would be a passing note to rest in A (ascending cadence), and in the second case, A would be a passing note to rest in Ab (descending cadence).
With this in mind, you should try to avoid playing any chord that has two notes with a distance of a semitone.
 Maybe you are thinking: "But then I could never play any chord with forth, because the forth always is a semitone of distance from the third degree (which is a chord note)".
This reasoning makes sense and it's true. But there is a solution: we can take away the third degree from the chord! This way there will be no conflict. As, in this case, it wouldn't exist third degree anymore, the chord becomes suspended. Moral of the story: the chords with 4th use to be suspended. This is why you will see Asus4, etc. The chords with fourth will have "sus" indicating that the third degree was suppressed from the chord.
Dm7 Extensions
Continuing our study about extended notes, let's analyze our next chord of major harmonic field of C (Dm7). This chord doesn't have any degree to be avoided, so you don't need to worry about its extensions. You can use anyone. You can see bellow the possibilities. The scale is D Dorian.
With fourth: Dm7(4)

With sixth: Dm7(13)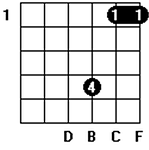 With ninth: Dm7(9)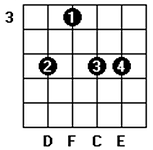 Em7 Extensions
Our next chord is Em7. See the scale (E Phrygian) and the extended notes:
With fourth: Em7(4)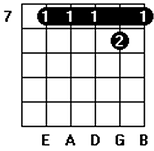 With Sixth: Em7(b6) = Em7(#5)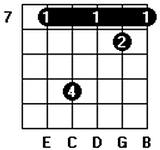 With ninth: Em7(b9)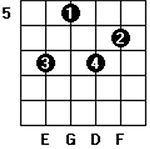 For this chord, we have to avoid the minor ninth degree (b9) and the minor sixth degree (b6 or #5). The degree b9 must be avoided because it is one semitone of distance from the first degree, giving that undesirable chromatic effect that we talked about before.
And the sixth b6 must be avoided because it mischaracterizes Em7 chord. The chord Em7(b13) or Em7(b6) is identical to C7M(9) chord. Compare them:
Em7(b13) notes: E, G, B, D, C
C7M(9) notes: C, E, G, B, D
Conclusion: IIIm7(b6) in the major harmonic field is equivalent to Imaj7(9). What is the problem in it? The only problem is that we would lose our objective, which is playing the chord E, because it would be sounding like C! This can imply in many consequences, for example, if we wish to use E minor to do a modulation to D major, through a cadence II, V, I (Em7, A7, D7M), this idea would be impaired, because our E minor is sounding like C major, that doesn't belong to D harmonic field. The progression Cmaj7 – A7 – Dmaj7 is not a chord progression with the format II – V – I. This kind of mischaracterization suggests that we avoid b6, so, in the chord of third degree.
The next chords of our analysis (F7M and G7), that corresponds to IV and V degrees, don't have notes to be avoided. We will show bellow some examples of common chords that appear in C major context to these degrees:
IV: F7M, F7M 9, F7M #11, F7M9 #11, F6, F6add9, F6 add9 #11
V: G7,G7 9,G7 13,G7 9 13, G7 11,Gsus4, Gsus13
Feel free to play with these options!
The sixth degree of our harmonic field, Am7, has a note to be avoided (b13). Reason: It makes Am7 sound like Fmaj7(9). Compare them:
Am7(b13) notes: A, C, E, G, F
Fmaj7(9) notes: F, A, C, E, G
The seventh and the last degree Bm7(b5) has two notes to be avoided: b9 an b13.
The note b9 must be avoided because it is one semitone of distance from the first degree, as we already saw. The note b13 must be avoided because the chord Bm7(b5) is identical to G7(9), compare them:
Bm7(b5) notes: B, D, F, G, A
G7(9) notes: G, A, B, D, F
Now that we finished this study, let's make a summary of the notes to be avoided in each degree: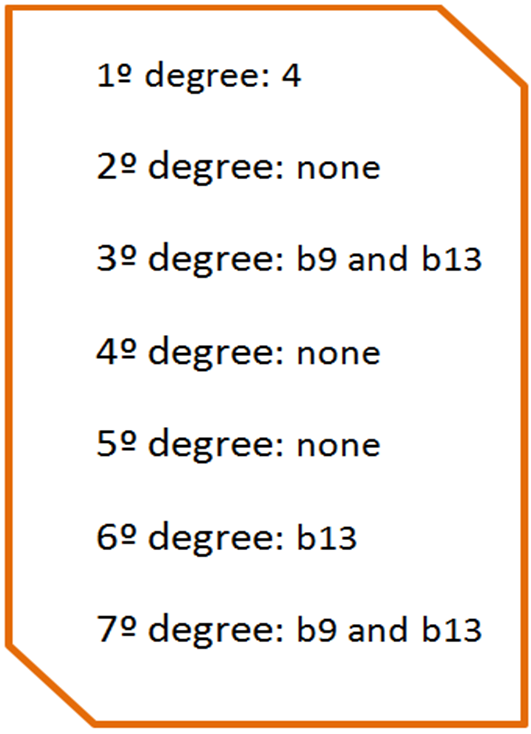 Very well, all other extended notes are available for you to have fun!
We advise you to take songs that are rich harmonically to observe the extended notes used in them. It is the best way of learning. Feel the effects of each extension and abuse of the possibilities!
Observation: We worked all the time in major harmonic field, but the same logic works for the minor harmonic field. We chose to not showing them to not be boring. If you want to analyze a minor harmonic field, try taking the major relative field to check the notes and observe which extend chords you must avoid. For example, if you want to analyze the notes you must avoid in B minor harmonic field, think in D major harmonic field (its relative) to check if all the note/degrees that you found are correct.
Go to: Suspended Chords
Back to: Module 7